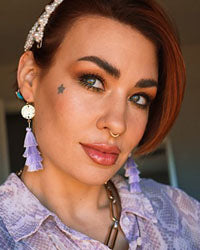 Rachel Heather Lee is a surface pattern designer and illustrator who creates beautiful artwork for consumer products.
Rachel's whimsical, hand drawn style exudes joy with vibrant colors and textures. She loves creating beautiful things for people to use – art with a practical purpose. Her artwork features themes drawn from nature, fantasy, and popular culture.
Rachel creates artwork both traditionally and digitally. Her favorite mediums are watercolor, gouache, pencil, ink, and marker. She's also a tech lover. "I love learning new software programs. I've used just about every drawing program out there – raster and vector. My iPad Pro has changed the way I design – it's an amazing tool."
Rachel lives with her family and her Pomeranian, Sammy, in a small town in Colorado. When she's not creating art, you can find her sewing, taking long walks in the wilderness, or playing with makeup.
Rachel is represented by Lisa Larsen Studio. See https://lisalarsenstudio.com/portfolio/rachel- heather-lee/ for more information.