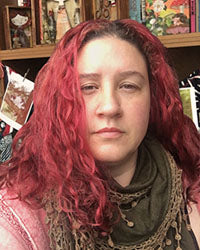 Eulalia Mejia is an illustrator, graphic designer and mixed media artist living in the rural mountains of Colombia, South America, with her two dogs, two cats and boyfriend.
Eulalia's journey in surface design began after working for more than 10 years as an in-house graphic designer for fashion companies and freelancing for silkscreen printing studios. As a way to explore her love for illustration and patterns, she started combining her curiosity for traditional media, with her passion for digital work. She developed a personal style that is bold and expressive, mixing sophisticated color palettes with whimsical characters creating unique and joyful designs.
Her painterly illustrations are a well balanced mix between traditional and digital mediums, ranging from watercolors, gouache, acrylics and collage to Illustrator, Photoshop and Procreate. Having the ability to work in both worlds creates a sense of freedom and joyous exploration that is tangible in all her designs.
Eulalia's artwork is inspired by the exotic and magical tropical land she lives in, making it both alluring and enchanting. Her aspiration is to bring a little cheer to daily life by designing playful illustrations for fun-loving people. She believes that we are never too old to be amazed by everyday life and that surrounding ourselves with beauty is the best way to remind ourselves there can be magic in the world.
Most days you can find Eulalia in her studio creating. Her interests are diverse and encompass a wide variety of creative projects like: doll making, embroidery, book binding, mixed media painting, collaging and art journaling. When she is not in her studio she enjoys riding her bicycle through the mountains and watching horror movies while hiding under the cushions.
Eulalia is represented by Lisa Larsen Studio. Visit:  https://lisalarsenstudio.com/portfolio/eulalia- mejia/ for more information.