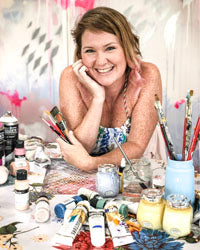 Hello, Sally here from Sillier Than Sally. I am an artist, teacher, product maker, shenanigan starter, rainbow chaser, travel/adventure seeker and animal lover. And boy do I love to create water colour art =)
My art has been called "confetti coloured imagery that wraps your heart in happiness". My signature style is of loose bright splashes of water colour (dubbed blobettes by my beautiful online tribe), contrasting with pockets of dynamic realism, which breaths a zest, life and vitality into my animal, bird and figurative art pieces. I LOVE creating friendly art that makes you feel like you can step into the page and join along with the cheeky little characters there.
My world is kept busy with art commissions, exhibitions here in Australia and internationally, illustrating children's books, creating fabric ranges with P&B Textiles, creating "live art" at corporate events/weddings, painting murals, creating art licensing lines, and teaching in-person and online art workshops.
I live in sunny Sydney, Australia with my two crazy but cutie pie little boys & over logical but huggable husband.
For more information about Sally, visit:
www.sillierthansally.com
www.instagram.com/sillierthansally
www.facebook.com/SillierThanSally