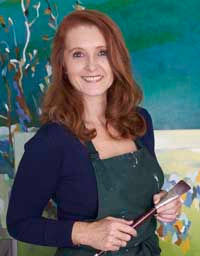 Kristine Ballard is an Australian contemporary painter. Saturated colour and strong movement are signature strokes of a style she calls 'Fragmatism'®. Images float, dissolve and fragment across the canvas. Colour is reconstructed.
Specialising in semi-abstract still life and landscape genres, colour is always the driving force in every creation. Human connectionnectivity to our environment is a theme that continues to inspire her creative practice. Translating the vibrancy of life through colour is her life long quest.
Based in Sydney, Australia Kristine has a long history of exhibiting her artwork nationally and internationally and exhibits regularly in solo and group shows. She has chased colour around the world completing art residencies in New York, Venice and Fiji. 
As an artist and arts educator Kristine also enjoys helping others find their own creative path by faciltating art functions, art mentoring and teaching art classes. She has been an arts presenter for EDTV and runs annual art retreats in Fiji. 
She can now combine her 25 years of experience as a Graphic Designer and Art Director with her Fine Art skills to enter the Art Licensing industry. It is with great pleasure that she unites with P & B Textiles to present her first fabric collection 'Naturesong' which will see release in July 2019. 
Kristine is excited about the opportunities art licensing can provide for her world of Fragmatism®. It will allow her to bring Fragmatism® to the world on an international stage. She hopes that everyone will soon have the opportunity to add a little fragmented colour burst to their day.
Kristine Ballard is determined in her mission to promote the bright beyond the beige...
"Adding more colour to your life has been proven to brighten your days and enrich your environment. I believe everyone should have access to the joy that colour can bring to their life. Fragmatism® opens that door and invites you to step in."
For more details about my art practice go to www.kristineballard.com
Follow Kristine at:
Facebook: www.facebook.com/kristineballardartist/
Instagram: www.instagram.com/kristinekballard