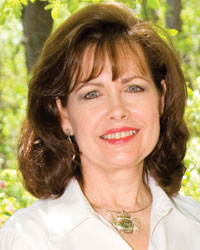 Sandy Lynam Clough™ creates beautifully realistic paintings and designs that can only be described as "Fresh-ditional"! They are both fresh and contemporary, yet her painting is fine art. This combination of fresh and traditional is uniquely Sandy Clough and appears on many licensed products, in gift books she has written and illustrated, and now in fabric collections.
A fourth generation artist, Sandy got her earliest art training and encouragement in a home where things were made and created – not just bought. Her talent and her creativity were developed by her father, who was a sign painter and an artist, and her mother, who was an excellent seamstress. She painted her first oil painting in the second grade. Her first grade teacher caught her making doll clothes in the classroom, and by the eighth grade, Sandy was starting to make her own clothes. The love of sewing was passed to her from her mother who learned it from her own mother. One of Sandy's treasures is the treadle sewing machine that her grandmother paid for with eggs from her chickens. The first book Sandy authored and illustrated was, "Heirlooms from Loving Hands", celebrating the joy of handmade keepsakes.
She began selling her paintings as an art major at Mississippi College and used her art to represent her college as Miss Mississippi College and Second Alternate to Miss Mississsippi. Although she has a degree in Art and a Master's Degree in Art Education, her heart is in painting instead of teaching. Mississippi College has twice named her Art Alumnus of the Year.
Her career began with original paintings and limited and open edition prints. Now products featuring her art are available throughout the United States, and in Canada, Australia and Russia. Sandy's art has been licensed for gift and home décor items that include tapestries, ceramic and glass table top, garden flags, kitchen textiles, stationery, framed art, calendars, paper tableware, recipe binders, quilt fabrics and much more.