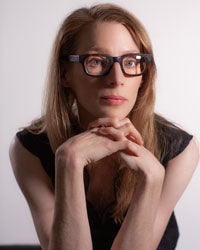 Jacqueline is currently the Chief Creative Officer of Everyrealm - an investment, development & infrastructure innovation company across the global metaverse & NFT ecosystem. Her love of storytelling and building brands is perfectly aligned in her role. She is excited to play her part in the Web3 experience.
Jacqueline is also an accomplished graphic, interior, surface and product designer.
Her interiors have been featured multiple times in numerous publications including; The New York Times, The Wall Street Journal, Domino, Dwell Magazine, Elle Decoration, Readymade, The Design Sponge at Home book, The Happiness Project book by Gretchen Rubin, The little book of living small, Page Six Magazine, Remodelista, Coastal Living, Apartment Therapy, Better Homes & Gardens, Casa de Abitare, and many more. One of her spaces was voted "Best of NY" interiors by New York Magazine & top 10 by Better Homes & Gardens. Her expertise in small space living was also showcased in the number one documentary of 2016, "Minimalism" and a Tiny House Hunting episode. Jacqueline's bespoke graphics, surface patterns and products have been featured in The New York Times, The Wall Street Journal, Fast Company, Land of Nod, The New York Post, Vogue, New York Magazine, Martha Stewart Living, Better Homes and Gardens, Babekins, Guess, Anthropologie, Oprah Magazine, The Happiness Project, The Toronto Star, Success, Forbes, Gourmet Magazine, Fine Cooking, Coca Cola, Barnes & Nobles, and more. A Chasing Paper wallpaper collaboration is launching this spring.
In 2007, Jacqueline founded Screech Owl Design, a company that specializes in stationery, prints, notebooks, and other paper goods and is carried in over 1500 stores worldwide. All of the images are hand-drawn by Jacqueline, whose signature style blends the urban and natural, the real and fantastic, and the familiar with the mysterious.
Jacqueline is the former Creative Director of Moomah, owned by Tracey and Jon Stewart of the Daily Show and Ollie, a co-living brand.
Jacqueline is also the author and illustrator of two children's books in "The Patchwork Adventures", published by POW! and two adult coloring books, "Dream Dresses" and "Birds on Bikes", published by the Quercus imprint of Hachette Books.
Where form meets function, creativity meets productivity, and beautiful design meets business development — that is where you'll find Jacqueline Schmidt. Her talent covers a broad range of scope, from graphic design to interiors, product design to furniture curation, and packaging design to concept/lifestyle development.