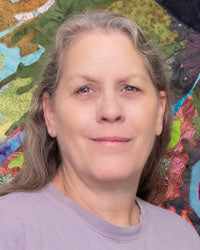 Diane spent her childhood in an old farmhouse in rural Ontario. When she wasn't collecting bugs or running through fields, she was drawing. Her love of surface design & pattern came from her mother who worked from home as a seamstress in the 60's and 70's. Diane designed & sewed her toys from the scraps of colorful fabrics her mother gave her. This sparked a real love for fabrics. She has always been inspired by the simple life they lived. There's nothing quite like the sight of a big old Maple tree bending under the weight of migrating Monarch Butterflies.
 Diane had a diverse work background before becoming a full-time illustrator, including the renovation and greenhouse industries. She loved woodworking and hand carved and built her son's first rocking horse. She spent many years creating one-of-a-kind art quilts that were all quilted on an old Brother's sewing machine.
Diane is self-taught and enjoys working in all mediums, including linocut, watercolor and digital arts. Although she no longer lives in an old farmhouse, she still lives in rural Ontario and is inspired by nature, old fashioned gardens, and everything mid-century modern.