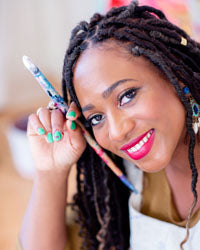 I'm Amira! A passionate abstract artist on a mission to make the world a more colorful place.
I've been making art since I could hold a pencil. Drawing became painting and painting became my obsession. Initially it was a hobby, an escape from the pressures of life and studying for law school. My journey took an inspired turn as I dove into painting every day, and now I send art to loving fans all over the world! It's a wild ride on the canvas and I'm happy to share my passion for color. My work has been procured by collectors around the world, and most notably, by the Royal Family of Abu Dhabi. 
"Painting is my way of honoring my time on earth.  It's my way of paying homage to the human experience. And it's a process that moves me every day".